What's the most surprising thing about Stoke-on-Trent? Oh, everything. And that it hasn't become a city break hotspot.
What's the deal with Stoke-on-Trent?
The best way to approach a weekend in Stoke-on-Trent is with no preconceptions. For one thing, it isn't laid out like a city at all, it's a web of six industrial satellite towns – Hanley, Burslem, Fenton, Longton, Stoke-upon-Trent and Tunstall – that banded together with the ambition and foresight of their most famous ambassador (a certain Josiah Wedgwood, but more on him later) to get city status.
Also, the centre of Stoke-on-Trent isn't in Stoke, where you disembark from the train. It's called Hanley and it's about a mile from the station. With me so far?
The six town centres of Stoke-on-Trent are actually quite special. Victorian red-brick buildings, made and fired locally from the thick red clay that earned the city its fortune, are everywhere. A 19th-century meat market fronted with classical columns – now a Wetherspoons pub – sits opposite a stunning old department store in Hanley.
Everywhere you look there's something to delight amateur historians and architectural enthusiasts, and at the very least there'll be a grand old place to have a pie and a pint. Some of these beautiful buildings have undergone sympathetic restorations as part of Stoke-on-Trent's bid to be the 2021 City of Culture, a handful are inevitably being turned into luxury apartments and others have been taken on and converted by the very first wave of visionary small businesses leading the charge for regeneration.
There's another common theme: everyone I met in Stoke-on-Trent was as nice as your nan on a Sunday afternoon. And not just to visitors but to each other. Taxi drivers and security guards smiling and thumbs-upping each other at junctions, burly men standing aside with an 'after you' through a busy bar. Maybe I've lived in London too long but it was intoxicating and left me on a quite a high.
Why go to Stoke-on-Trent?
Stoke falls firmly into the constituency of Northern Soul towns (it was affectionately called Soul-on-Trent in the 1960s and 70s) and there are traces of its legacy in the beautiful Rubber Soul record shop (not a CD in sight) and Music Mania a street away in Piccadilly Arcade. In the window, handwritten cards list the bands playing at The Sugarmill, a club that's been bringing bands like Coldplay and Muse to Stoke since 1994, presumably before they went on to mega stardom and marrying A-list Hollywood types.
Natalie Davies
The fact that everyone here seems obsessed with music is another mark in Stoke's favour, and means there's always a gig or open mic night to discover during your visit.
But it's the pottery that draws most people here. From the perfectly preserved Victorian factory at Gladstone Museum to the huge Wedgwood complex that receives 100,000 visitors every year, this city is a British manufacturing phenomenon that deserves to be explored.
OK, so what's this pottery heritage all about?
Stoke-on-Trent's beginnings came from the natural surroundings: clay, water and coal were in abundance, and as early as the 1650s local artisans became experts in the art of making pots. There were 4,000 bottle kilns across Stoke in its heyday, putting out the still valuable Doulton ware and, of course, the iconic blue and white Jasperware that took Wedgwood from a family business into an international brand.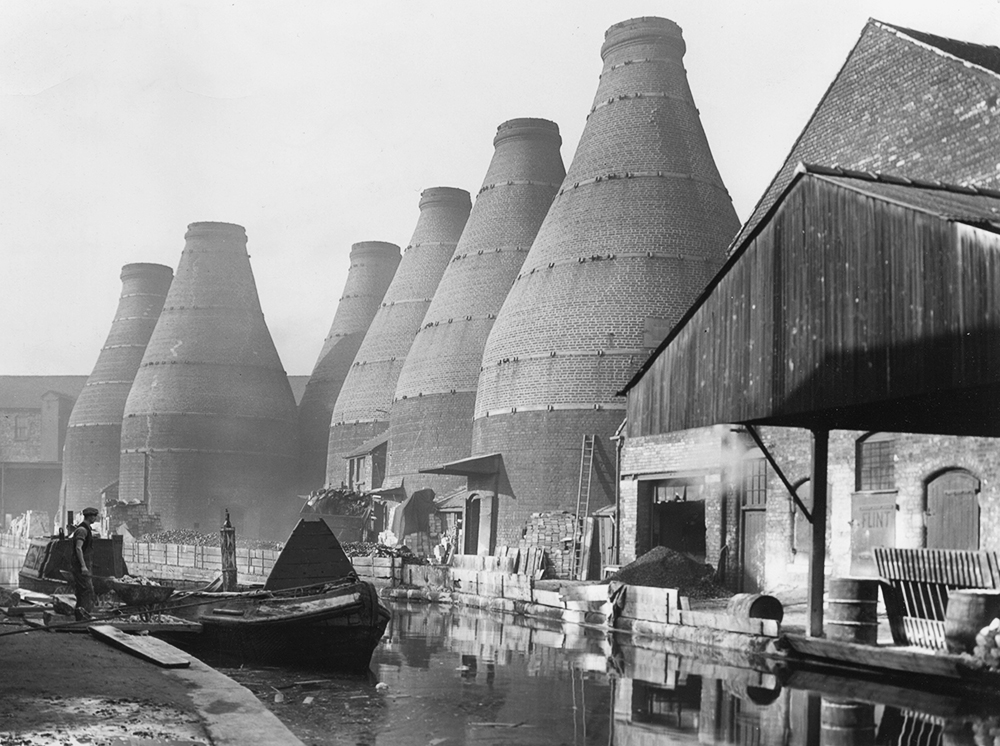 Hulton Archive Stringer/Getty
Visiting the World of Wedgwood is a big undertaking – it is a theme park of a place with an emphasis on selling it's most recent designs in the large gift shop and factory outlet. The museum itself tells the remarkable story of Josiah Wedgwood – an obsessive genius who worked for years on inventing unique glazes in green, blue and black that made his designs hugely fashionable. It's a story told in great detail but you can see the highlights in around an hour, including the Portland vase, which took three years of sweat and tears and is still considered one of the greatest technical achievements in the ceramics.
Lovers of history must visit the Gladstone Pottery Museum and Middleport, the setting for the BBC's Great Pottery Throwdown, to see the beautiful architecture, watch the master makers at work and see the last bottle kilns still standing. They both host annual beer festivals with delicious local brews on tap, live music and food served in rooms stacked with slip moulds and saggars. The canalside spot at Middleport Pottery makes it perfect for sundowners by the water.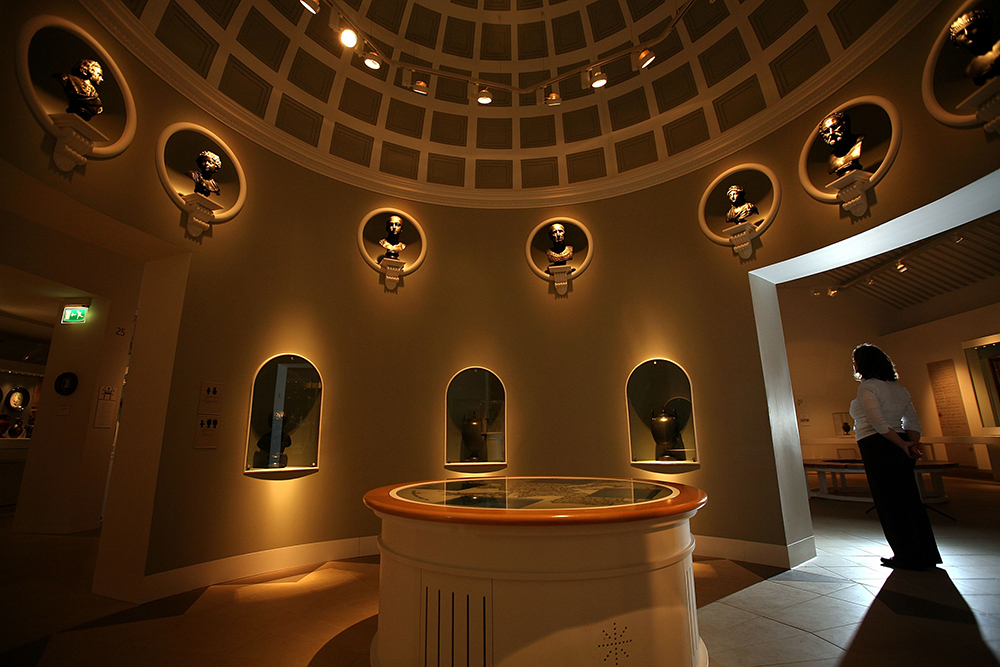 World of Wedgwood by Christopher Furlong/Getty
What else is there to do in Stoke-on-Trent
If the weather is good, Trentham Estate is a beguiling place accessed through a shopping village. Pay the entrance fee and see for yourself what lies beyond the designer outlets: gorgeous grounds, a lake designed by Capability Brown and an immaculate Italian garden. Walk through the Chelsea Flower Show gold medal-winning Rivers of Grass garden and stop to marvel at a perfect copy of the bronze renaissance masterpiece, Perseus and the Medusa. Behind that stands the heart-stopping ruins of Trentham Hall.
As if delight were a freely available commodity, Trentham lays it on thick with a miniature steam train that runs around the lake. There are otter hides, an island full of birdlife, a boathouse and woodland to explore with fairies hidden throughout for the children to find.
Diana Jarvis/Visit England
A walk around the lake at a gentle pace leads you to a café where the sun hits just in time for an afternoon tea, and backs onto a monkey sanctuary where 140 Barbary macaques roam freely in a peaceful forest setting.
Attempt to get to see at least a few of these wonders and you really can't complain about spending a weekend in Stoke-on-Trent. The people are warm, the beer is casked and there's a surprise wherever you're willing to delve.
Is there anywhere good to eat?
Assuming you're a fan of afternoon tea, Stoke is absolutely heaving with delicious things to eat on small chintzy side plates. Try the afternoon tea at the Emma Bridgewater Café and World of Wedgwood which features homemade cake and garden-fresh sandwich fillings.
The regional favourite is a Staffordshire oatcake and you couldn't swing a fat cat without hitting a shop, bakery or café selling these warm savoury pancakes. Made from oatmeal, they are similar to a Breton galette and stuffed with a comforting amount of melted cheese and a slice of bacon.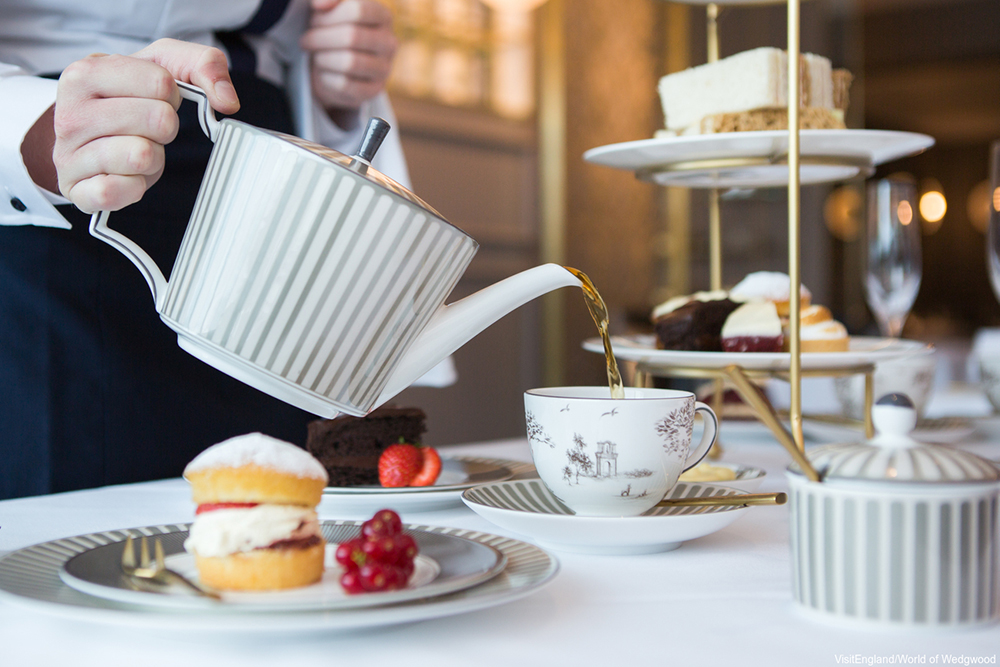 World of Wedgwood/Visit England
For an evening meal, Roberto's in Hanley offers traditional Italian dishes made with care; pasta, pizza, steaks, seafood and gelato are all on the menu. Locals recommend David's Brasserie for its fine food and warm, relaxed atmosphere. The dishes change often but there's always a mix of fresh seafood, steaks and vegetarian options with daily specials catering to a range of tastes with its fusion flavours.
Where can I stay in Stoke-on-Trent?
Accommodation in Stoke is rather dispersed. There are a few well-known hotel chains offering big comfortable rooms for reasonable prices, but these are better suited if you have a car, as they're around 15 minutes driving from the town centre. For a convenient location and Victorian grandeur, the North Stafford Hotel sits opposite the train station and has one of the few fine-dining restaurants in the city.
For a bit more local history, the Best Western's Moat House is adjoined to Etruria Hall – the 18th-century former home of Mr Wedgwood himself. Ask nicely and one of the staff will let you have a look around the old house – though it has been extensively refitted to become an events space there are some portraits of the family still hanging in the wings.
Booking.com
While the boutique hotel scene has yet to fully emerge here there are some small family-run places that are well worth checking out. The Clayhanger B&B makes a great base in Newcastle-under-Lyme, and if you're willing to provide for yourself you can get the best of the countryside with a stay at one of the self-catering cottages at Hilltop Farm.
How do I there & get around?
The six satellite towns that make up Stoke-on-Trent are are quite spread out, making walking between them an unrealistic option for most. Having a car for the weekend also provides access to the glorious surrounding countryside. That being said, it's perfectly doable without a car.
Getting to there by train is a breeze from London, Manchester and Birmingham and is often much quicker than driving. Buses connect the town centres and each one is small enough to walk around. Do make sure to check times before you head out or you could face a bit of a wait on the bus stop; taxis are reasonably priced and plentiful.